Professor Haisheng Li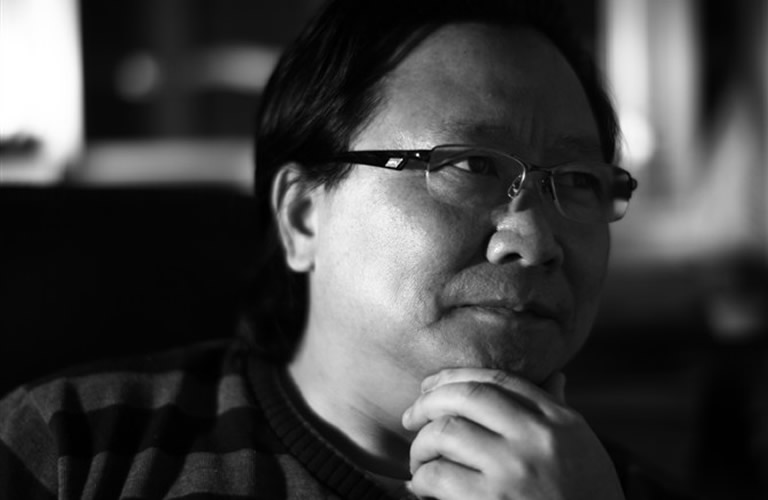 Professor Haisheng Li is a famous master of Di ( refers to all kinds of Chinese bamboo flute), Xiao (Chinese vertical bamboo flute) and Xun (a musical instrument made from clay/soil) and an educationist. Currently, he is a musical professor of the Music College of the University and supervising postgraduate students.
His previous and present positions include: the deputy director of the Practice, Education and Research Centre of the Music College; the director of the Traditional Music Education and Research Centre of the Accessorial College, the dean of the Arts College of Guangxi Yulin Educational University. Professor Li is a member of the China Musicians Association as well as the China Traditional Wind Instruments Research Institute. He is also the secretary-general of Guangxi Traditional Wind Instruments Research Institute; a national senior examiner for social cultural arts examinations. When he was having a music tour in the US, he became a freeman of the city of Okahahom and was given the honor as a goodwill ambassador of Sino-US cultural exchanges. Professor Li's profile is included in the 'Biography Dictionary of China's Famous People', the 'Biography Dictionary of the World's Cultural Celebrities', the 'Biography Dictionary of China's Masters of Traditional Music' and the 'Beadroll of China's Musicians'.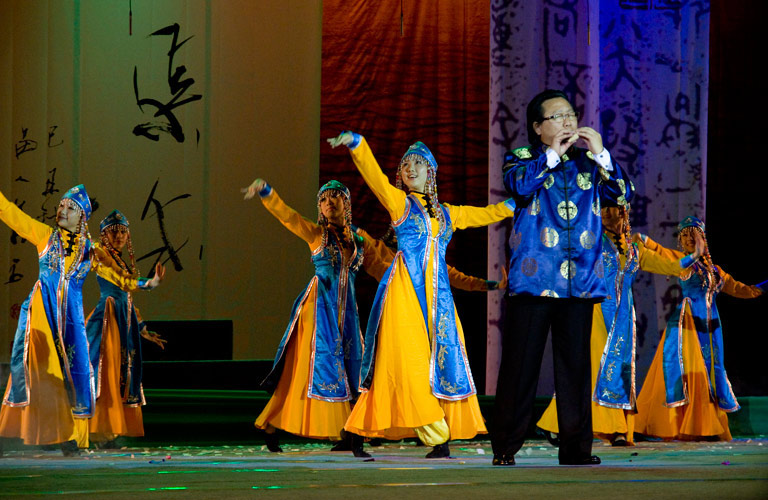 Professor Li is often invited for television interviews and chat shows. His stories and innovative developments in music (such as patented multiple-hole Xun; and musical table ware 'Hao Kou Bei' – multi-functional ceramic music instruments) have attracted enormous publicity by a number of international and Chinese national media, including for example, China Central TV (CCTV), China Daily, Xinhua, Sohu, Guangxi Daily, Nanning Daily etc.
Professor Jin Bai

Jin Bai (Professor, Director of Guangxi Female Artists Association, and member of China National Artists Association), has principally worked in education management and the research of arts and design. See her major awards and achievements here. Born in Xi an city, Shanxi Province, China, Jin studied Peking Opera Performance at the College of Drama (Guangxi Arts Institute), and then Fine Art Education at the College of Fine Art. Since the 1990s Jin has devoted herself to the exploration and research of ceramic art. Currently, she is Deputy Dean of the Design College of Guangxi Arts Institute.
Driven by her love for Peking Opera and traditional ceramic art, Jin has attempted to integrate China's three national treasures (traditional music; drama, especially Peking Opera; and ceramics) into one, and researched the application of Peking Opera Facial Mask elements in the design and creation of ceramic art work. Examples of her achievements so far include: series of ceramic art works e.g. 'China Peking Opera Facial Masks – the Xun', 'The Spirit of Peking Opera', 'The Universe's Beauty and Pride', 'Tides – the Northern Bay' and 'Wisdom · Thoughts' being displaced in many professional exhibitions; and a highly regarded personal exhibition of ceramic art work – 'The Timeless Essence of the Xun · Inspired by Peking Opera's Spirit'. Jin is known for her extensive research on the modeling and exterior design of a clay Chinese wind musical instrument – the Xun. She has led several national, provincial and institutional granted research projects and successfully developed the Lan Pu (facial mask) Xun, a unique piece of art that implies several Chinese classic arts, such as the Peking Opera Mask, ceramics and stone carving. In 2010, the Lan Pu Xun was invited to be used for exhibition and a live music recital at the opening ceremony of the 6th China-ASEAN Expo, especially for the presidents and senior officials of 11 countries. An honorary certificate was awarded for contributions. Meanwhile, the Lan Pu Xuns were made China's state gifts for presidential delegates of the China-ASEAN Expo. Since then, Lan Pu Xun have been given to United Nations' officials as well as galleries and arts professionals in the US, the UK, France, Germany, Canada, Korea, Japan and Taiwan for permanent collection by China's state bodies and officials. In addition, 'Xun – Opera Facial Masks' (A/B/C) and 'One Type of Low-Key Xun' were granted 4 invention patents by China National Intellectual Property Bureau. Jin's art work and articles have been published in many leading specialists' journals and given significant awards.